A Slick Look - portfolio
The owner of Slicks hair salon in West London wanted to expand her business and to start selling her hair products online. After a few brainstorming sessions to find out how she wanted the company to be viewed, we set about creating a brand and a new website for her to sell her products.

A Slick Look Website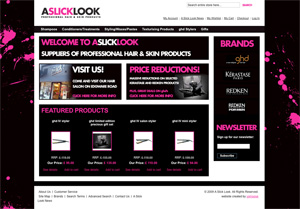 A complete e-commerce site was created for A Slick Look, this included admin controls so that the owners are able to add, edit and delete the products as well as print out packing slips and invoices.
There is also a varied reporting and analysis section where the owners are able to view products by popularity and number of orders.
Website: www.aslicklook.co.uk
A Slick Look Branding